Venue & Hospitality
The Oberoi Centre Al Aamal Street Business Bay Dubai - United Arab Emirates
Conference Dates: April 28-29, 2016
Hotel Services & Amenities
Audio/Visual Equipment Rental.
Business Center.
Business Phone Service.
Complimentary Printing Service.
Express Mail.
Fax.
Meeting Rooms.
Office Rental.
Photo Copying Service.
Secretarial Service.
Telex.
Typewriter.
Video Conference.
Video Messaging.
Video Phone.
ATM.
Baggage Storage.
Transportation
Driving Directions to
Dubai International Airport : 17 kilometres / 25 minutes' drive
Abu Dhabi : 150 kilometres / 1 hour 30 minutes' drive
Sharjah : 35 kilometres / 45 minutes' drive
Burj Khalifa/Dubai Mall : 3.1 kilometres / 8 minutes' drive
Global Village : 27.1 kilometres / 22 minutes' drive
Route Map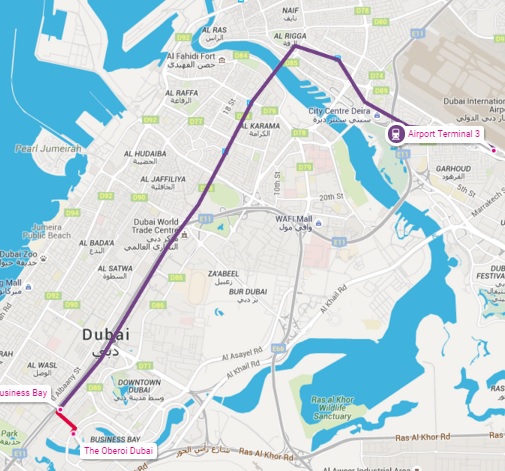 About City
Dubai the most populous city in the United Arab Emirates (UAE). It is located on the southeast coast of the Persian Gulf and is one of the seven emirates that make up the country. Dhabi and Dubai are the only two emirates to have veto power over critical matters of national importance in the country's legislature. The city of Dubai is located on the emirate's northern coastline and heads up the Dubai-Sharjah-Ajman metropolitan area. Dubai is to host World Expo 2020.
Dubai has emerged as a global city and business hub of the Middle East. It is also a major transport hub for passengers and cargo. By the 1960s Dubai's economy was based on revenues from trade and, to a smaller extent, oil exploration concessions, but oil was not discovered until 1966. Oil revenue first started to flow in 1969. Dubai's oil revenue helped accelerate the early development of the city, but its reserves are limited and production levels are low: today, less than 5% of the emirate's revenue comes from oil. The emirate's Western-style model of business drives its economy with the main revenues now coming fromtourism, aviation, real estate, and financial services. Dubai has recently attracted world attention through many innovative large construction projects and sports events. The city has become symbolic for its skyscrapers and high-rise buildings, in particular the world's tallest building, the Burj Khalifa. Dubai has been criticised for human rights violations concerning the city's largely South Asian workforce. Dubai's property market experienced a major deterioration in 2008–2009 following the financial crisis of 2007–2008, but the emirate's economy has made a return to growth, with a projected 2015 budget surplus. As of 2012, Dubai is the 22nd most expensive city in the world and the most expensive city in the Middle East. In 2014, Dubai's hotel rooms were rated as the second most expensive in the world, after Geneva. Dubai was rated as one of the best places to live in the Middle East by American global consulting firm Mercer.